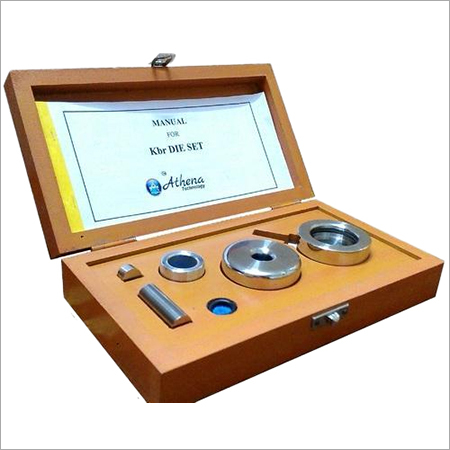 KBR DIE SET
Price And Quantity
Box/Boxes

4000.00 - 15000.00 INR
Product Description
Dies are available in the sizes :-
5 mm, 8 mm, 10 mm, 15 mm, 20 mm, 25 mm, 30 mm, 37 mm, 40 mm, 60mm.
(Pls. refer to Hardened Alloy Steel Dies section)
| | |
| --- | --- |
| Material | SS316 HSS |
| Pattern Dimensions | 5 to 60 mm |
| Pattern Type | SS |
| Brand | Athena |
DIE Set for IR-FTIR and XRF, Evacuable KBr Die Set is used to form pellets/circular discs for IR-FTIR Solid Sampling /Analytical Purpose. Most commonly used die is of 13 mm dia. pellet size. 13 mm KBr Die consists of a two-piece outer die, tungsten carbide mirror finished punches (envils), pusher rod and pellet removal ring. Die is fitted with a nozzle for evacuation ( if required ). The die is manufactured from hardened stainless steel and can be easily dismantled for cleaning purposes . The entire set is enclosed in a velvetted teak-wood box , for safety and durability. The Die can be subjected to a Max. Load of 15 Tons.Notes:
Each part is separately available for replacement
Tungsten Carbide is brittle in nature & is not guaranteed against breakage.
Spare punches, pushers are sold in pairs only.

Dies are available in the sizes:
5 mm, 8 mm, 10 mm, 15 mm, 20 mm, 25 mm, 30 mm, 37 mm, 40 mm, 60mm.
(Pls. refer to Hardened Alloy Steel Dies section)
13 mm KBr Pellet Holder:
Pellet Holders to suit the above sizes are manufactured by us, the standard being 13 mm Aluminium Anodized Pellet Holder.
Briquetting Pellet Dies:
3mm KBr die set
5mm KBr die set
5mm SS anvils
10mm KBr die set
Set 2 replacement SS anvils, 10mm
Set 2 tungsten carbide anvils, 10mm
13mm KBr die set with 2 SS anvils & assorted paper inserts for micro sample
Set 2 replacement SS anvils, 13mm
Set 2 tungsten carbide anvils, 13mm
16mm KBr die Set with 2 SS anvils, 16mm
Set 2 replacement SS anvils,16mm
Set 2 tungsten carbide anvils, 16mm
19mm die set with 2 SS anvils; Low profile fits 12 ton EZ Press
Set 2 replacement SS anvils, 19mm
20mm die set with 2 SS anvils
Set 2 replacement SS anvils, 20mm
Set 2 tungsten carbide anvils, 20mm
25mm die set with 2 SS anvils
Set 2 replacement SS anvils, 25mm
Set 2 tungsten carbide anvils, 25mm
32mm die set with 2 SS anvils
Set 2 replacement SS anvils, 32mm
Set 2 tungsten carbide anvils, 32mm
35mm die set with 2 SS anvils
Set 2 replacement SS anvils, 35mm
Set 2 tungsten carbide anvils, 35mm
40mm die set with 2 SS anvils
Set 2 replacement SS anvils, 40mm
Set 2 tungsten carbide anvils, 40mm
45mm die set with 2 SS anvils